Nächstes Konzert:
Rust On The Rails [USA]
Do, 06.04.17 | 20.30h | 12€
Happy Billard *Kurt-A.-Körber-Chaussee 73* 21033 Hamburg Bergedorf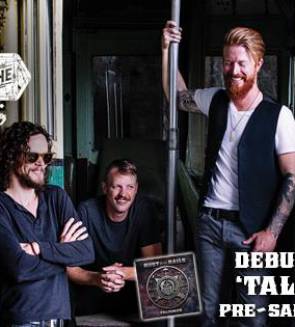 American Aussie Roots
Cody Beebe und Blake Noble sind keine unbekannten Größen in der Musik-Szene vom Nord-West Pazifik. Beebe, ansässig im Staat Washington und Frontmann von Cody Beebe & The Crooks, tourte ausgiebig auf nationaler und internationaler Ebene. Dabei formte er den vom Northwest Rock beeinflussten Americana-Sound. Der in Australien geborene Nobel brachte den entscheidenden frischen Wind rein, als er im Jahr 2012 in Seattle ankam. Was als einfache Zusammenarbeit basierend auf dem gegenseitigen Respekt vor dem einzigartigen Talent des Anderen begann, legte den Grundstein für "Rust on the Rails". Das Ergebnis ist eindeutig intuitiv. Die Band teilte sich schon bald mit Sturgill Simpson und Lukas Nelson & Promise Of The Real die Bühne. Auf dem Gentlemen Of The Road Festival 2015 wurden sie neben Mumford & Sons, Foo Fighters und Dawes angekündigt. Den Sommer 2016 verbrachten Sie im Studio, um Ihr erstes Komplettalbum Talisman aufzunehmen. Da bedienen sie sich des guten, alten Didgeridoos und lassen es zusammen mit Bluesgitarren, einem Hauch Folksound und 90er Alternative Rock verschmelzen und kreieren einen Stil, den sie selbst als »American Aussie Roots Rock" bezeichnen.
Cody Beebe war ja schon mit seinen "Crooks" 2015 zu Gast im" Club am Donnerstag" und hat das Happy Billard zum Rocken gebracht.
ROTR sind :
Cody Beebe (Vocal;Guitar)
Blake Noble(Acoustic Guitar (percussive), Didgeridoo, Vocals)
Eric Miller (bass)
Chris Lucier (drum)
http://www.rustontherails.com/
Video