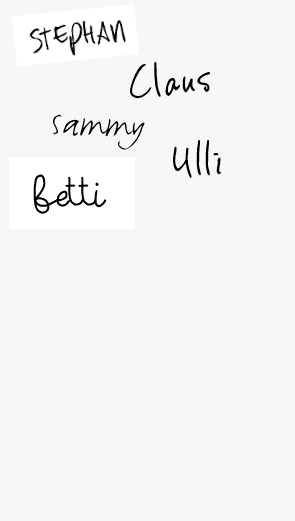 cad - info
In the beginning - some 20 years ago - there was a small group of beer- and music-lovers in a small location named Jazzclub, who met every Thursday.
2012 they established the Club am Donnerstag, which organizes weekly concerts at different venues, currently at the Happy Billard, residing in the Kurt-A.-Körber-Chaussee 73.
Special concerts at special places such as the Bergedorfer Schloss, the LOLA and in the Union Hall, live music on ships and open air concerts are also part of the CaD s concept. We are always searching for appealing and exceptional places for extraordinary music. Not only German but also international artists are guests of the CaD in the southeast of Hamburg.
Artists and agencies admire the Club am Donnerstag as an attractive and preferred organizer. This shows the fast increasing number of enquiries and applications.
The high artistic level of the concerts, the professional organisation and the voluntary and cordial work of the team cause a permanent increase of visitors and supporters.
The Club am Donnerstag can regularly activate around 50-150 guests to visit its events. Moreover it has a multiplicity of useful contacts due to its comprehensive sponsorship.
The team, which consists of volunteers, arrange for an unobstructed accomplishment of the events and a perfect assistance of the musicians.
That way every Thursday is an important and beautiful day in Bergedorf, because you can meet new people and well-known friends, who have the same interest in good live music (and everything around this).
contact: Info@clubamdonnerstag.com
Folowing artist have played with us:
Patricia Vonne, Toby Beard, David Grissom, Ashton Lane,Micky & the Motorcars, Them_Vibes,SweetKiss Momma, Line Bogh,
Gransten Blues Band,Meena Cryle & Chris Fillmore Band,Robert Jon & the Wreck, West My Friend, Red Moon Road, Mischa Gohlke,Radio Birds, The Silent Comedy,Micheal Vdelli,Shake n Bake,Hymn for Her, Adam Eckersley Band,The Broadcast,
Harpeth Rising,Clint Westwood,Captain Ivory,Modern Earl, The Pin Sharps,Vivi Ann, Madison Violet,Ruby Dee & the Snakehandlers,ODi, Jares Jame Nichols, Midnyte Flyte,Hogjaw,Annalise Emerick, Vanessa Peters,Pop Javali, AMA, Nick Parker & the False Alarm,John Blek & the Rats, Misty Boyce,Crazy Crackers, Chris Cubeta, the Deep End, The Revolutionaires,Denmantau,The Widowbirds, Katarina & Dejan, Grainne Duffy,Kelley McRae Duo, Dirt River Radio, Stone Rider,Neal Black,Hannes Bauer, Matt Charles, Carrie Rodriguez, The Roomsounds,The Billy Walton Band,Josh Hoyer & Soul Colossal,Reckless Kelly, Jerry Leger, Lynne Hanson,Amanda Rheaume,Jetbone,The Electric Alley, Stacie Collins,Travers Brothership,Stephen_Simmons,Moondaze,The Rads Trads,Greasy Tree, Urban Funk Bash,Steve Baker Band,Stefan Gwildis, The Whiskey Hell, Elles Bailey,Micke & Lefty feat. Chef,
Hannah Wicklund & the Steppin Stones,
Reckless Kelly,Them Dirty Roses,Slam & Howie, Krissy Matthews, Veronique Gayot, Madeleine Lang,Micke Björklöf and Blue Strip, Ryan Tennis, Vanesa Harbek, Samantha Martin & Delta Sugar, Krissy Matthews & Band, Vanderlinde,
Florian Lohoff + Band
and more.....
CaD - Info
Live Musik in Hamburg Bergedorf
Vor über 20 Jahren begann alles mit der Idee, sich donnerstags nach Feierabend mit Freunden zu treffen, sich dabei dem einen oder anderen Kaltgetränk - und insbesondere der Musik - hinzugeben.
Daraus entwickelte sich der Club am Donnerstag, der seit Anfang 2012 ein eingetragener und gemeinnütziger Verein geworden ist und dafür sorgt, dass jede Woche Live-Bands in Bergedorf auftreten. Dabei handelt es sich teilweise um hochkarätige, internationale Künstler, die im Rahmen ihrer Deutschland-Tourneen gerne einen (Vor-)Abstecher nach Bergedorf machen.
Da diese Musiker ein großes Netzwerk nutzen, in dem sie sich u. a. auch über ihre Auftritte, Erfahrungen und Erlebnisse in Bergedorf austauschen, bekommt der CaD immer wieder neue und interessante Anfragen aus aller Welt.
Aber auch die Local Heroes und insbesondere Nachwuchskünstler kommen nicht zu kurz. Ganz im Gegenteil: Den "guten Namen", den sich der Club durch seine außergewöhnlichen Konzerte gemacht hat, wollen wir auch dazu nutzen, jungen Künstlern eine Bühne, und durch unser Netzwerk, eine Plattform zu bieten, um im Musikgeschäft voran zu kommen.
Neben unserer Kooperation mit dem Happy Billard gehören Sonderkonzerte u. a. im Bergedorfer Schloss, der LOLA und im Gewerkschaftszentrum oder Live Musik auf der Marylou und Open Air Konzerte zum Konzept des CaD – immer auf der Suche nach attraktiven und außergewöhnlichen Plätzen für außergewöhnliche Musik.
Da sich unter den Machern des Clubs selbst Musiker befinden, liegt es nahe, dass auch sie - zusammen mit befreundeten "Muckern" - Sessions und Veranstaltungen durchführen (z. B. Family Affairs und Old Friends and New Bands). Junge und alte - besser: erfahrene - Talente locken und rocken sich durch spannende Improvisationen gegenseitig aus der Reserve oder stellen neue Bandprojekte einem fachkundigen Publikum vor.
Künstler und Agenturen wissen den Club am Donnerstag als attraktiven und zuverlässigen Veranstalter zu schätzen. Die in den letzten Monaten rasant gestiegene Zahl der Anfragen und Bewerbungen dokumentiert dies eindringlich.
Das hohe künstlerische Niveau der Konzerte, die professionelle Organisation und nicht zuletzt das ehrenamtlich und herzlich zusammen arbeitende Team des CaD haben auch für eine stetige Steigerung der Besucherzahlen und für einen Zulauf an Unterstützern für den Club gesorgt.
Der Club am Donnerstag kann regelmäßig (d. h. wöchentlich) zwischen 50 - 150 Gäste zu seinen Veranstaltungen mobilisieren und verfügt wegen seiner breiten Trägerschaft über eine Vielzahl an nutzbringenden Kontakten.
Ein Team aus festen ehrenamtlichen Mitarbeitern steht für eine reibungslose Durchführung der Veranstaltungen und eine optimale Betreuung der Musiker.
Und so ist der Donnerstag in Bergedorf auch ein wichtiger und schöner Tag, um neue Leute und alte Bekannte zu treffen, die das gemeinsame Interesse an guter Livemusik (und allem, was dazu gehört) zusammenführt.

Kontakt: info@clubamdonnerstag.com
Live Musik in Hamburg Bergedorf