Nächstes Konzert:
Moondaze [NL]
Do., 16.05.19 | 20.30h | 10€
Happy Billard * Kurt-A.-Körber-Chaussee 73* 21033 Hamburg-Bergedorf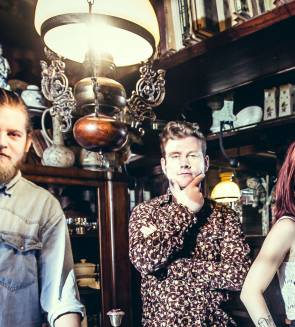 Energie Rock
Inspired by blues/rock bands from the 70s they create a furore with energetic live shows, catchy hooks and sexy riffs. Marja Boender, Sebas Fledderman and Tom Beemster are Moondaze.

An adventure that started in North Holland is now taking place at festivals such as Popweekend Schagen and Culemborg Blues, and with performances in Germany and Luxembourg even outside the country.

In August 2018 single "Optical Illusion" saw the light of day, and the band is currently writing and recording, expected to release a new album in early 2019.

There is no lack of creativity and ambition with this young power trio, Moondaze is fast becoming an established name within the Dutch blues/rock scene, and seems ready to conquer the rest of Europe.
Ticket Reservierung unter : info[at]clubamdonnerstag.com oder
bestellen bei Konzertkasse Schumacher:
Tickets : https://www.tk-schumacher.de/events/club-am-donnerstag/club-am-donnerstag
Video