Vanessa Peters with the Sentimentals [USA]
Do., 16.04.15 | 20.30h |
Happy Billard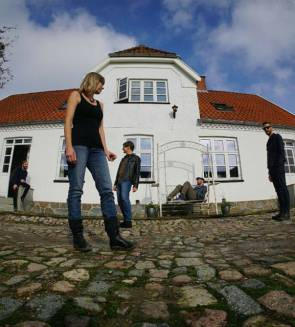 Mit Vanessa Peters kommt eine herausragende Musikerin mit langjähriger Bühnenerfahrung in den Club am Donnerstag. Eine Vielzahl von Konzerten in unterschiedlichen Formationen und diverse CD-Veröffentlichungen zeugen von ihrer kreativen Schaffenskraft. Über 1000 Konzerte in 11 verschiedenen Ländern spielte die umtriebige Künstlerin in den letzten 10 Jahren. Verschiedene Auszeichnungen im In- und Ausland sind ein Beleg für ihre Qualität. In ihrer Heimatstadt wurde sie zuletzt vom Dallas Observer als "Best Folk Artist" ausgezeichnet. Nach ihrem Album "The Burn The Truth The Lies" und zwei Jahren exzessiver Tourneen hat sie im Januar ihre inzwischen 7. CD veröffentlicht, "With The Sentimentals", ein Livealbum. Und The Sentimentals, eine international erfahrene Folk-Rock Band aus Kopenhagen, ist auch der Support bei ihrem Auftritt im Club.
Vanessa Peters wuchs in Dallas, Texas auf. Sie studierte Englisch und Kreatives Schreiben und hatte ursprünglich eine Karriere als Schriftstellerin vor Augen. Nach dem Studium ging sie für ein Jahr nach Italien, begann dort Gitarre zu spielen und schrieb erste Songs. Seit dem Jahr 2003 macht sie professionell Musik. Ihre Lieder haben Kurzgeschichten-Qualität und ihre lyrischen Fähigkeiten werden seitens der Kritik durchweg positiv hervorgehoben. "Das Rock'n'Roll-Leben kann ganz schön verrückt sein" hat sie irgendwann mal ganz richtig bemerkt. Ihre Musik ist dann aber weit weniger verrückt, sondern orientiert sich am klassischen Americana-Songwriting das sich - leicht sentimental und poetisch durchaus bildhaft - mit den kleinen und großen Themen des menschlichen Miteinanders beschäftigt: Freundschaft, Liebe, Angst, Verlust. Manchmal geht es dabei um die Familie, manchmal auch um Sirenen, die Seeleuten nachtrauern.
Freuen wir uns auf ein mitreißendes Gastspiel dieser exzellenten Musikerin aus Dallas!