Micky and the Motorcars [USA]
Freitag !
Fr., 16.06.17 | 20.30h |
Happy Billard * Kurt-A.-Körber-Chaussee 73 *21033 Hamburg Bergedorf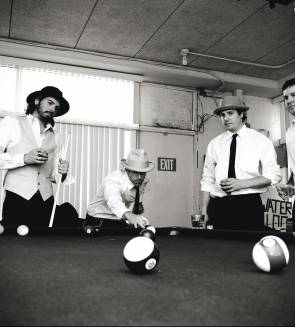 Nach dreijähriger Veröffentlichungspause und einigen personellen Umbesetzungen präsentieren sich die Texaner Micky & The Motorcars auf ihrem 7. Album Hearts From Above in frischer Spiellaune, technisch auf gewohnt hohem Niveau und mit starken neuen Songs. Bandleader Micky Braun und sein Bruder Gary gelten mit ihrer Combo in der Familienhierarchie ja mitunter als so etwas wie die kleine Unterabteilung der höher dotierten Reckless Kelly (mit ihren älteren Brüdern Willy & Cody Braun), aber es wäre schlicht ungerecht, daraus weniger Qualität oder gar fehlende Anerkennung in der Texamericana/Country Rock-Gemeinde abzuleiten. Im Gegenteil: Mit ihren dynamischen auf-den-Punkt Live Shows und durchweg sehr souveränen und lebendigen Studioproduktionen begeistern sie seit Beginn des Jahrtausends nicht nur eingeschworenen Fans, sondern tragen ihre ganz spezielle Auslegung sogenannter Red Dirt Music in die Welt! Hearts From Above, ihr 3. Blue Rose-Album in Folge, macht da erwartungsgemäß gar keine Ausnahme, es schließt nahtlos an die Vorgänger an! ( Stahl Entertainment)
Wieder ein Freitagstermin!!!
Members: Micky Braun - Lead Vocals, Acoustic Guitar, Gary Braun - Harmony & Lead Vocals, Guitars, Madolin & Harmonica, Dustin Schaefer - Lead Guitar, Bobby Paugh - Drums & Percussion, Joe Fladger - Bass
Genre: Alt-Country/Americana
http://www.mickyandthemotorcars.com/
Tickets:
:https://www.tk-schumacher.de/events/club-am-donnerstag/club-am-donnerstag