Line Bøgh [DK]
+ Band
Do., 18.02.16 | 20.30h |
Happy Billard - Kurt-A.-K;rber-Chaussee 73, 21033 HH-Bergedorf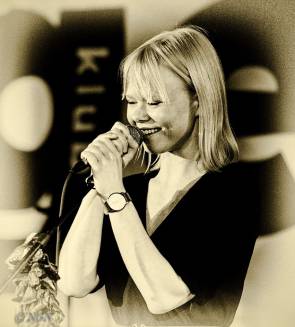 Es gibt Künstler, die arbeiten lange und verbissen daran, originell zu klingen. Es gibt aber auch Künstler, denen es leicht fällt, unkonventionelle und erfrischend andere Musik zu schreiben. Line Bøgh ist ganz klar eine Kandidatin der zweiten Kategorie. Die Dänin mit einer erst kürzlich erwachten Affinität zu Berlin schafft es, aufmunternde Popsongs zu kreieren, die das gewisse Etwas besitzen. Davon kann man sich auf ihrem im März 2015 erschienenen Album "Something else and somthing else and something else again" überzeugen. In ihrem Heimatland ist die 29-jährige Line keine Unbekannte mehr - 2014 sang sogar ein Kandidat der dänischen Version von The X-Faktor einen ihrer Songs.
Musik ist für Line eine Familienangelegenheit: sie tourt mit ihrer Schwester Johanne und ihrem Schwager Rasmus. Die Musik wurde den beiden Schwestern in die Wiege gelegt - ihr Vater war Musiklehrer und Instrumente allgegenwärtig. Man begibt sich gerne auf eine farbenfrohe Reise durch Lines musikalische Landschaft.
Ihre Songs versteht sie als ungewöhnliche Mischung aus Pop und Poesie, der Name ihrer CD ist programmatisch: Sie möchte ihren Hörern etwas anderes, immer wieder Neues bieten. Das tut sie im Rahmen einer kleinen Deutschland-Tournee nun auch auf unserer Bühne im Club am Donnerstag. Viel Spaß dabei!

https://www.facebook.com/LineBogh
http://www.intro.de/popmusik/line-bogh-im-steckbrief-wer-wir-sind