The Pin Sharps
Do., 02.04.15 | 21.00h |
Happy Billard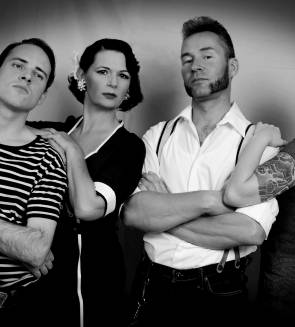 The Pin Sharps
Female fronted Rockabilly from BERLIN with Hot Booogie Chicabilly Sound!
Nach dem Erfolg im letzten Oktober, nun zum 2. mal bei uns im Club !
Die Pin Sharps traten erstmals gemeinsam im April 2011 auf. Die vier Bandmitglieder haben sich aus allen Teilen des Landes zusammengefunden, um gemeinsam eine unverwechselbare, einzigartige Rockabilly-Band zu kreieren. Ungewöhnlich ist vor allem das Konzept, zwei Chicabilly-Frontfrauen mit zwei sexy und (musikalisch) starken Jungs zu kombinieren. Holly Rose (Gesang und Rhythmusgitarre) und Lily Black (Kontrabass und Zweitgesang) bringen zusammen mit Drummer Carl und der Leadgitarrist Stevie wilde Rockabilly-Rhythmen auf die Bühne und bieten gleichzeitig was für's Auge!
In den letzten Jahren hat die Band eine Menge Live-Shows in Clubs und auf Festivals gespielt und bereits bis August 2014 gibt es neue Show-Termine! Neben eigenen Songs präsentieren sie ihre eigenen Interpretationen von Elvis, Johnny Cash, Janis Martin, Patsy Cline oder The Collins Kids. Die Band spielt die Songs mit so viel Seele, Spaß und Leidenschaft, dass es fast scheint, als seien selbst die Klassiker ihrer eigenen Feder entsprungen.
Auch die Medien sind bereits aufmerksam geworden und The Pin Sharps hatten ihren ersten TV-Auftritt im Sommer 2013 in der RTL-Serie "Gute Zeiten, Schlechte Zeiten".
Derzeit arbeiten die vier Musiker an neuen Songs, um bald ihre erste Platte auf den Markt zu bringen.
Und jetzt Leute: Get ready for to hop, skip, and jump!