Rhys Crimmin & the Toms (AUS)
Do., 13.08.15 | 20.30h |
Happy Billard - Kurt-A.-Körber-Chaussee 73, 21033 HH-Bergedorf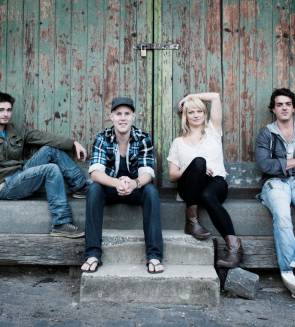 Zum zweiten Mal bei uns im CaD und das Konzertverspricht ein echter Knaller zu werden.

Rhys Crimmin & the Toms spielten schon vor zwei Jahren sehr, sehr erfolgreich im Club am Donnerstag. Mehr als 120 Fans, zum Teil von weit her angereist, lauschten den Rhythmen und furiosen Improvisationen aus Down-Under.
Die Band hat nicht nur ein Talent "das aus allen Nähten platzt", sondern auch eine Bühnenpräsens die man schwer vergessen kann. In dem Moment, wenn die Band zu spielen beginnt, fängt sie die Zuhörer mit ihrer ungeheuren Energie, ansteckende Bühnenshow und warmen Klängen der außergewöhnlichen Musik.
Rhys war lange als Solomusiker unterwegs und auf seinem Weg fand er Mitstreiter, die alle irgendwie den Namen Tom tragen. So Entstand Rhys Crimmin & the Toms. Von den über 100 Konzerten die Sie im Jahr spielen, gleicht keines dem anderen, denn sie erfinden sich, mit ihren Gitarren, Didgeridoos, Harmonicas, Kazoos, Foot Percusssion und allem was sie in die Finger bekommen , immer wieder neu. Ein passendes Genre für ihre Musik lässt sich auch schwer definieren. Sie bezeichnen es selber als "Aussie Roots Reggae & Dirty Foot Stompin' Blues", auf die Bühne gebracht mit einer Wahnsinns Energie, Spielfreude und Enthusiasmus.
Rhys Crimmin & the Toms sind:
Rhys Crimmin Gitarre, Didgeridoos,Kozoos…….
Tom Jones Drums
Meagan Thomson Fiddle
Tom Collins Bass
http://www.rhyscrimmin.com/

https://www.facebook.com/rhyscrimminmusic
Tickets:
:https://www.tk-schumacher.de/events/club-am-donnerstag/club-am-donnerstag