SHTEVIL[B]
Do., 07.10.21 | 20.00h |
Happy Billard * Kurt-A.-Körber-Chaussee 73 21033 HH-Bergedorf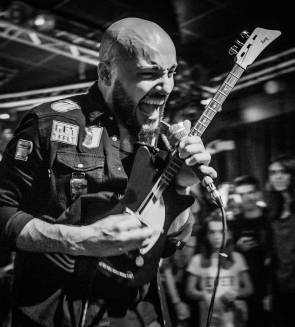 Diese Konzert findet auch unter Corona Bedingungen Mit den 3 Gs: geimpft, genesen, getestet!
Feste Sitzplätze, Abstand und Maske.....
Wir haben nur begrenzte Plätze, deshalb bitte vorher verbindlich anmelden
(und bei Verhinderung bitte bitte absagen!)
mit Namen, Adresse und Telefonnummer unter:
Anfang 2015 wurde der belgische Rock & Soul Künstler "SHTEVIL" geboren. Er wollte die Art von Musik machen, die heutzutage schwer zu finden ist. Herstellung etwas, das die Leute an Classic Rock wie Led Zeppelin, The Black erinnerte Crowes, Bruce Springsteen, Grand Funk, aber auch Marvin Gaye, Al Green Seele dazu. Aber er wollte nicht, dass es eine Retro-Band wird. Es musste etwas sein, das sich anhörte es wurde heute gemacht, hatte aber immer noch das Feuer und die Seele wie die alten Schulsachen. Sein Songwriter für andere Leute lehrte ihn viele Jahre über die Regeln, um einen "Hit ." zu schreiben record". Aber mit "SHTEVIL" warf er alles über Bord. Das richtige Feeling war Nummer Eins. SHTEVIL veröffentlichte 3 Singles, die zu seinem Debütalbum "STUNG" führten. Diese Singles wurden im italienischen Radio sehr gut aufgenommen; "On Fire" ging auf Platz 1 in der Virgin Radio Top 20 und der Track wurde von ihnen in einer nationalen TV-Werbung verwendet Kampagne. Die anderen Singles erreichten auch die Top 20-Plätze bei Virgin Radio & Radio Freccia. Außerdem wird Airplay in der Schweiz und in Deutschland hinzugefügt. Nachdem er erfolgreich eine Reihe von europäischen Shows gespielt hat, die das Album unterstützen, ist er jetzt mit einer fulminanten neuen Single "Never Ever" zurück. Was wieder den Geist von Classic Rock and Soul kanalisiert, der mit Punch geliefert wird

https://www.facebook.com/shtevil
https://twitter.com/shtevil
https://instagram.com/shtevil
Kartenreservierung unter : Info @ clubamdonnerstag.com
Bitte Namen, Adresse und Tel. Nummer
für alle Tickets angeben ! Solange die
Corona Verordnungen gelten sind wir
verpflichtet die Kontaktdaten zu erfassen!
Daten werden 4 Wochen nach Konzert wieder gelöscht!