The Revolutionaires
Do., 24.04.14 | 20.30h |
Happy Billard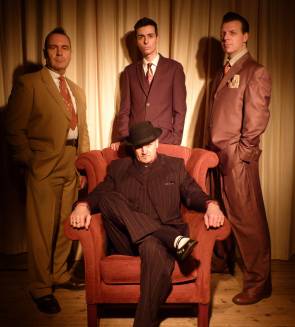 http://www.the-revolutionaires.co.uk/
The Revolutionaires kommen aus dem Norden der UK, um genau zu sein aus Durham. Sie spielen dampfenden Rhythm n' Blues und erergischen Rock 'n Roll, beeinflusst von R & B Musikern aus den 40-ern und 50-ern Jahren wie Louis Jordan, Smiley Lewis, Little Richard, Roy Brown oder Chuck Berry. Ihre Herangehensweise zu diesm Stil ist aber härter und aggressiver und sorgt fur einen eigenen "High Energy Sound".
Seit nun mehr als 10 Jahren reisen Ed Stephenson, Vocals/Gitarre und Gründer der Band, mit seinen Jungs durch Europa und haben sich als Liveband in der Blues und Rock'n Roll Szene einen beachtlichen Namen aufgebaut. Fünf Alben gehen mittlerwiele auf Ihr Konto.Aber um den wahren Spirit der Revolutionaires zu ergründen, muss man die Band live erleben.
The Revolutionaires spielen nur 5 exclusive Shows in Deutschland auf dieser Tour.