Birds Of Chicago (USA)
Do., 21.03.13 | 20.30h |
Happy Billard - Kurt-A.-Körber-Chaussee 73, Hof hinten 1. Stock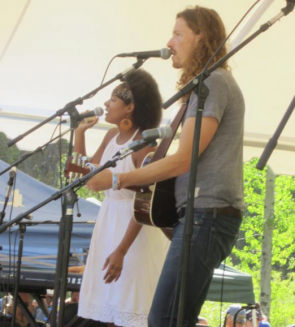 Birds Of Chicago sind ein Kollektiv rund um JT Nero und Allison Russell. Ob auf Tour als Duo oder mit der ganzen Band-Familie, haben sich Russell und Nero als zwei der stärksten Stimmen der nordamerikanischen Roots-Musik bewiesen.
Über mehrere Jahre haben Neros und Russells Bands Po`Girl (Vancouver, BC) und JT and the Clouds (Chicago, IL) intensiv zusammengearbeitet, aber seit 2011 mit der Platte Mountains/Forests unter dem Banner von Nero liefern sie die wahre, bezaubernde Kraft ihrer Stimmen zusammen auf einem Album. Und mit dabei ist die volle Auswahl der Charaktere rund um das Birds of Chicago Ensemble: The Clouds und Michelle McGrath, die glänzende Sängerin aus den Hügeln von Southeast Ohio.
Neros gebrochene Country-Soul-Stimme verpackt in Russells goldene und silberne Töne, sind herrlich. Nicht zu perfekt, überhaupt nicht süßlich, hört man Echos von Mountain Gospels, Street-Corner Doo-Wop und klassischem Soul. Begleitet von einem Banjo und einer Gitarrre, ist es faszinierend. Angetrieben von der ganzen Band ist es ein Schlag ins Kontor. Es ist bekannter und fremdartiger Stoff – das Alltägliche und das Magische. Schau sie Dir an, sie sind leicht zu finden!