King Tree and the Earthmothers [USA]
Do., 19.10.23 | 20.00h |
Happy Billiard * Kurt-A.-Körber-Chaussee 73 * 21033 HH-Bergedorf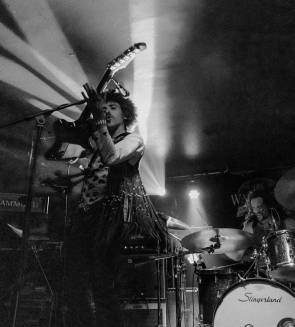 King Tree and The Earthmothers
Die Leadgitarre von Robert Jon & the Wreck ist mit eigener Band unterwegs!
Beim ersten Hören der neuen Songs von King Tree & The Earthmothers bald erscheinendem Album hatten wir quasi unisono die Eingebung, dass es genau so klingt, als wenn Gram Parsons und Jimi Hendrix bei den Kinks in der Band spielen und einen Jam in bester Beatles-Manier mit einer Prise Desert Stoner abziehen würden.
Jeder einzelne Song-Auftakt hat uns unmittelbar gepackt und uns mit Überschallgeschwindigkeit Zeugen werden lassen, wie sich die Stücke zu hammermäßigen Classic Rock-Hymnen entwickeln und uns auf eine Zeitreise von den Swinging Sixties bis ins Hier und Jetzt und zurück katapultieren.
Fragt man die Band danach, wie sie ihre eigene Musik beschreiben würde, so erhält man Antworten, deren Inhalt Attribute wie mystischer, bewegender, bedeutungsvoller psychedelischer Rock n Roll aufzeigt. Inspiriert von Tolkiens Fantasiewelten gemischt mit klassischen Tönen - einfach alles zwischen Motown und der New Wave of British Heavy Metal. Danke, setzen, wir sind dabei!
Damit wir einander nicht falsch verstehen, diese Band, aus der Wiege gehoben von unserem jungen Gitarrentalent, Henry James, den wir als Saitenhexer bei Robert Jon & The Wreck kennen- und liebengelernt haben, ist die Inkarnation eines jeden Power Trios für knackigen Rock n Roll. Neben Henry James an der Gitarre sorgen sich Adam Ditt (auch bei den L.A.-Rockern Balto) am Bass und Erik Elgit am Schlagzeug um die treibenden Rhythmen.
Seht zu, dass Ihr die alten Lava-Lampen Eurer Eltern wieder aktiviert und begebt Euch auf eine sphärische Reise unter fachkundiger Leitung von King Tree & The Earthmothers.
Wir fühlen uns mit Recht mächtig stolz, diese Band in unserer Rock-Familie begrüßen zu dürfen und sie im Oktober auf unsere Bühne zu sehen.
Tickets :Abendkasse
May of 2020, this is was performed, recorded and filmed at DJE Sound Lighting Studio in Foothill Ranch, CA. The companion footage is also available on YouTube.
Featuring longtime friend and live bass player Adam Ditt as well as the veteran drummer of Robert Jon & The Wreck, Andrew Espantman, this is a short and raw exploration of a high energy live performance in the vein of power trios like (the) Cream, Blue Cheer and the Jimi Hendrix Experience.
credits
released October 2, 2020

Henry James (Schneekluth) - Lead vocals, guitar
Adam Ditt - Bass guitar
Andrew Espantman - Drums

Mixed and mastered by Chad Gordon in Los Angeles, CA
Album art by Roshi - Instagram: @dirtyoldroshi

Video footage and sound recorded live at DJE Sound & Lighting in Foothill Ranch, CA - May 2020