Mark Peters & The Dark Band (UK/AT)
Do., 06.02.20 | 20.30h |
Happy Billard * Kurt-A.-Körber-Chaussee 73 *21033 Hamburg Bergedorf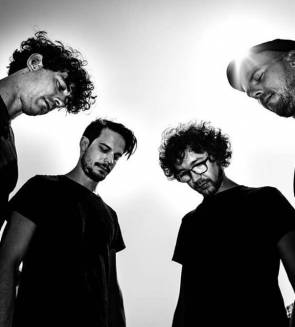 Mark Peters & the Dark Band
Den Londoner Mark Peters einfach in die Singer/Songwriter-Schublade zu stecken, wird der Sache nicht gerecht. Mit breitgefächerten Einflüssen von Nick Drake bis Radiohead, ist Peters' Musik nicht nur unverkennbar von Folk und Jazz geprägt, sondern vermischt auch Country-, Blues- und Funkelemente. Er ist einer jener seltenen Künstler, die es schaffen, beeindruckende technische Fertigkeiten an der Gitarre mit brillanten Songs zu vereinen. Seine genreübergreifende Musik zieht ein breites Publikum an.
Für die im Oktober 2017 veröffentlichte Debüt-EP "Spirits" bekam Mark Peters viel Anerkennung aus der internationalen Musikszene. Kurz darauf gründete er seine derzeitige Formation, Mark Peters and the Dark Band, eine vierköpfige Gruppe, die die Talente von Fabian Natter (Drums), Martin Burtscher (E-Gitarre), Markus Manahl (Bass) und Mark Peters (Gesang und akustische Gitarre) vereint.
Im Januar 2019 brachte die Gruppe eine weitere EP, "Sum of all Parts", heraus, die von Kritikern unter anderem mit Cat Stevens und Ben Howard verglichen wurde.
Die Band hat im September 2019 die Single "Eveline" veröffentlicht und arbeitet derzeit an ihrem ersten Album. Wie auch bei den vorhergehenden Veröffentlichungen, wird auch dieses von Dan Fisher (Audio Heart Records) produziert. Die Veröffentlichung ist für Februar 2020 geplant.