Cancelled!! Them Vibes [USA]
fällt aus
So., 01.01.12 | 20.30h |
Happy Billard * Kurt-A.-Körber-Chaussee 73 *21033 Hamburg Bergedorf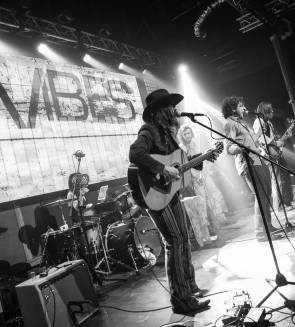 8.6.17
Die Band hat die Tour leider abgesagt.
Schade.
Them Vibes bleed Rock 'n' Roll.
Underground Rock 'n' Roll aus Nashville/Tennessee
Them Vibes wurde 2013 von den beiden Singer / Songwritern Brother Love und Alex Haddad gegründet und ist schnell zu einem heißen Tipp in der East Nashville Underground-Szene geworden. Mit ihren treibenden Live-Shows, eingängigen Songs und grandiosen Hooklines haben sie sich rasch ein begeistertes Publikum und regelmäßige Auftritte in Nashville und Austin erspielt. Beeinflusst durch den geradlinigen Rock 'n' Roll von Bands wie The Faces oder T. Rex, sowie von der Energie und dem Sound der Stones oder The Black Crowes, halten Them Vibes den wahren Geist des Rock 'n'Roll auf ganz aktuelle Weise am Leben. Die Inspirationsquellen von Them Vibes sind allgegenwärtig und jederzeit greifbar, aber was die Band daraus macht, geht ab wie ein Zäpfchen und bringt einen Höllenspaß.
Them Vibes spielen bei uns auf der Clubbühne und zeigen, dass fetzige, handgemachte und mit Leidenschaft gespielte Rockmusik nichts an seiner Faszination verloren hat. Für ihre erste Europatournee haben Brother Love und Alex Haddad eine high-energy Band zusammengestellt, mit Kyle Lewis an der Leadgitarre, Sarah Tomek am Schlagzeug und Tim Braisted am Bass. Für alle die Rockmusik mögen, ein absoluter Pflichttermin!