Patricia Vonne & Band [USA]
Do., 25.09.14 | 20.30h |
Happy Billard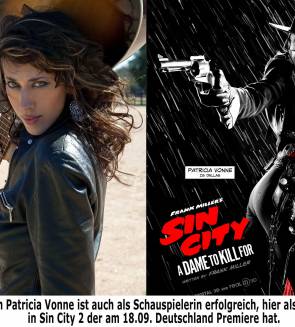 "Hot blooded mix of Latin rhythm & rattling bar-room rock" – THE TIMES
Die Sängerin und Komponistin Patricia Vonne ist keine Unbekannte in Bergedorf. Ihre grandiosen Auftritte im Rahmen der Konzertreihe Club am Donnerstag hat beim Bergedorfer Publikum einen bleibenden Eindruck hinterlassen. Ohne Zweifel gehört sie zu den schillerndsten Figuren der heutigen texanischen Musikszene.
Auch als Schauspielerin ist die Vonne aktiv: Rechtzeitig zum Auftakt Ihrer Herbstournee erscheint der neue Sin City Film – "A Dame To Kill For" in dem sie zum zweiten Mal die Rolle als "Dallas – The Zorro Girl" spielt.Mit einer Stimme, die vom "Texas Music Magazine" als "stark sinnlich, geschmeidig und endlos hörbar" bejubelt wurde, kreiert Patricia Vonne einen lebhaften Tex-Mex Mix der sich zusammensetzt aus Roots Rock und Country, kombiniert mit den Corridas und Rancheras aus ihrem mexikanischen Erbe. Eine brodelnde Mischung, die durch ihre temperamentvolle Bühnenpräsenz, frisch und exotisch zugleich, zu einer aufregenden Einheit geschmolzen wird. Und wenn's der Song hergibt, greift die grazile Sängerin auch noch zu den Castagnetten.
Wie ihr Bruder, der Kultregisseur Robert Rodriguez (u.a. Once Upon a Time in Mexico, Desperado, Spy Kids, From Dusk till Dawn, Sin City) ist Vonne ein Multitalent. Sie wirkte nicht nur in drei der oben genannten Filmen mit, sondern schrieb auch Filmmusik wie "Traeme paz" für "Once Upon a Time in Mexico" mit Antonio Banderas, Salma Hayek und Johnny Depp oder "Mudpies & Gasoline" für Hellride von Quentin Tarantino. Desweiteren schrieb sie gemeinsam mit Boss Hoss das Lied "Still Crazy About Elvis", das auf der CD "Liberty of Action" erschienen ist und wirkte in deren Video "Don't Gimme That" mit.
"Patricia ist zweifelsohne ein mindestens ebenso flamboyanter Charakter wie die Figuren, die die Filme ihres Bruders bevölkern. Sie setzt sich beeindruckend in Szene und kennt dabei keinerlei Hemmungen. Seien es nun blumige Ansprachen ans Publikum, grandios inszenierte Rock'n'Roll Posen oder das virtuose Hantieren mit Castagnetten." Musikalisch bietet Patricia allerbestem Tex Mex Rock'n'Roll unterstützt von ihrem musikalischen Partner Robert LaRoche, der als vielseitiger, effektiver Gitarrero in Erscheinung tritt sowie Peter Van de Sanden am Schlagzeug und Harmen de Bresser am Bass.
Also Nicht verpassen - am 25.9 ins Happy Billard
Übrigens ab 18.9 könnt Ihr sie in SIN CITY 2 sehen
Veranstaltungsort:
Happy Billard , Kurt A. Körber Chaussee 75, Hinterhof 1.Stock 21033 Hamburg