Blues Bandits / Ben Wild Band
Do., 16.08.12 | 20.30h |
Bergedorfer Schloss Innenhof, VVK 10 €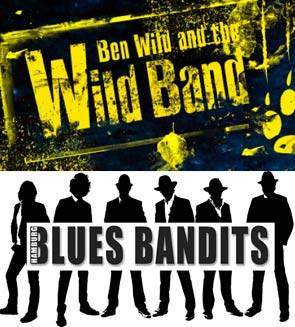 Ben Wild und die Wild Band
Stellen Sie sich vor: Elvis singt Britneys Spears Songs, Little Richard covert Nirvana, Jerry Lee Lewis spielt mit Madonna...
Wir nennen das: POP\'N\'ROLL !

Wenn die Superhits der 70er, 80er und 90er Jahre dem treibenden Beat des Rock\'n\'Roll zum Opfer fallen, dann kann daran nur Ben Wild Schuld sein. Sobald der geborene Brite mit seiner "WILD BAND" auf die Bühne geht, kocht der Saal, Petticoats fliegen auf die Bühne und schwitzende Frauen- und Männerkörper wirbeln im Rhythmus der Band über die Tanzfläche. Pop\'n\'Roll ist angesagt! (Siehe Bild).
Spätestens seit "Dick Brave" weiß man die treibenden Beats des Rock´n Roll wieder zu schätzen. Mit Ben Wild hat der Rock´n Roll wieder den Kanal überquert und treibt nun in auf dem Festland sein Unwesen."Ben Wild & the Wild Band" goodrockin´, beeboppin, nonstoppin!
http://www.wild-band.com/wild-band.com/Home.html
http://www.myspace.com/benwildandthewildband
Blues Bandits
Seit ihrem letzten Gig im Schloß wissen wir: Alles andere als eine musikalische Kaffeefahrt!"Summertime – and the living is easy!" Heizdecken braucht hinterher garantiert keiner mehr! Die bluesigen Banditen verwöhnen das Publikum und treue Fans mit einen Cocktail aus Blues, Rhythm & Blues, Blues-Rock, Rock'n'Roll und Soul - gerührt und nicht geschüttelt!Genuss und Unterhaltung pur garantiert!
http://www.hamburgbluesbandits.de/
http://www.bandnet.de/band/hamburg-blues-bandits
http://de-de.facebook.com/www.hamburgbluesbandits.de?filter=1