Micke Björklöf and Blue Strip [FIN] moved!
verschoben auf 12.5.2022 !!!!!
Do., 29.04.21 | 20.30h |
Happy Billard * Kurt-A.-Körber Chaussee 73 * 21033 HH-Bergedorf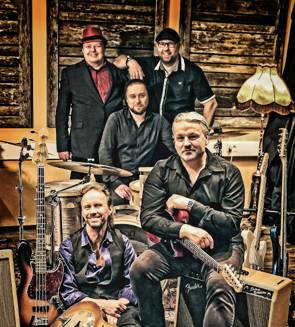 Ob der Termin klappt wissen wir jetzt noch nicht , Drückt die Daumen das wir ende April wieder durfen .......
Micke Björklöf and Blue Strip
Seit mehr als 20 Jahren beindruckt die Band Skandinavien mit ihrem Bluesrock. Seit der Bandgründung im Jahr 1991 gab es nur kleine Veränderungen im Line-Up und die aktuelle Besetzung besteht schon seit mehr als fünfzehn Jahren.Ain't Bad Yet heißt das sechste Album der finnischen Bluesrockband Micke Bjorklof & Blue Strip. Aufgenommen wurde es im Oktober 2014 in den walisischen Rockfield Studios, in denen von Queen über Black Sabbath bis zu Oasis schon viele große Bands ihre neuen Platten eingespielt haben. Als Produzent gewann das Quintett den 10-maligen Grammy-Preisträger John Porter (Buddy Guy, B.B. King, Taj Mahal, Keb Mo oder Santana).2014 gewannen die fünf Musiker dann die Finnish Blues Challenge und repräsentierten Finnland im März 2015 bei der European Blues Challenge in Brüssel.
Im Mai 2017 folgte dann der nächste große Schritt mit einer kompletten Deutschlandtournee rund um den Auftritt auf dem renommierten BLUES BALTICA Festival in Eutin (Schleswig – Holstein), bei dem das am 06.04.2018 erscheinende Livealbum "Twentyfive Live at Blues Baltica" mitgeschnitten wurde
Im April 2018 und Oktober 2019 ging es zudem wieder auf eine umfassende Tournee durch Deutschland und für mehrere Auftritte nach Tschechien und Polen. Die finnischen Blueskönige verandeln dabei eine jede Bühne zum Juke Joint in den Sümpfen der finnischen Wälder. Ein wahrer Hochgenuss für Freunde von Bluesrock, Boogierock und Swamprock. Was steht 2020 an? Sie basteln an einem neuen Album für 2021, lassen im März zuerst die kleine Variante, MICKE & LEFTY feat. CHEF auf die Piste gehen und kommen im Mai wieder zu uns.
Band:
Lefty Leppänen Gitarre, Vocals
Teemu Vuorela Schlagzeug
Seppo Nuolikoski Bass, Vocals
Tim Roiko-Jokela Percussion, MalletKAT
Micke Björklöf Leadsänger, Harmonika, Gitarre