Slam And Howie
And The Reserve Men (CH)
Do., 26.09.13 | 20.30h |
Happy Billard - Kurt-A.-Körber-Chaussee 73, Hof hinten 1. Stock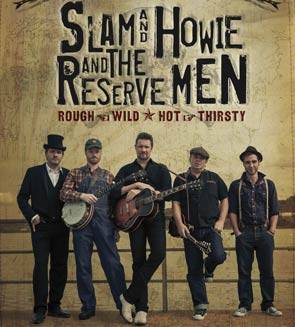 Gotta Move On
Wäre Slam & Howie And The Reserve Men ein Film, dann ein Roadmovie. Eine Handvoll Outlaws, unterwegs, um an allen möglichen und unmöglichen Orten zu spielen: Im Country-Saloon, auf der Skipiste, auf einem Schiff, in einem Punkschuppen. Unterwegs sein ist die einzige Konstante – always on the run...
Wanna Be On The Road Again
Denn dort sind die fünf Jungs um Lt Slam zu Hause: Auf den Bühnen der Clubs und Festivals im In- und Ausland. Zu den bisherigen Highlights gehören Auftritte am Gurtenfestival, Heitere Open Air, Zwarte Cross (NL) und dem Mighty Sounds Festival (CZ).
Ihre unvergleichlichen und energiegeladenen Liveshows sind das Markenzeichen der Band. Mit Rockgitarren, Banjo und Mandoline haben Slam & Howie and the reserve men einen unverwechselbaren Stil entwickelt und sich mit schweisstreibenden Konzerten ein treues Publikum in ganz Europa erspielt. Ihre Fans in der Schweiz, Spanien, Italien und Tschechien danken es ihnen mit grosser Treue und einer stetig wachsenden Fangemeinde.