SweetKiss Momma [USA]
Do., 16.11.17 | 20.30h |
Happy Billard * Kurt-A.-Körber-Chaussee 73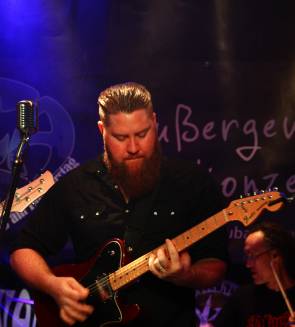 Nach ihrem großartigen Erfolg in 2015 und 2016 sind sie wieder bei uns!
SweetKiss Momma
Southern Rock aus Seattle? Ja, warum nicht, das geht! SweetKiss Momma kommen aus Seattle (Washington), USA und spielen authentischen Roots Southern Rock mit genügend Drive und Boogie und überzeugen damit selbst die härtesten "Freebird"-Fans. Klasse Songs mit vielen Genre Einflüssen wie Roots Rock, Rock'n'Roll, Soul und Blues erinnern an The Black Crowes, Lynyrd Skynyrd, Allman Brothers Band, Kings Of Leon und Wilco. Angefangen haben SweetKiss Momma bereits im Jahr 2000, als Lead-Sänger Jeff Hamel, Schlagzeuger Tyson Lickert und Gitarristen Waid Hoyt und Aaron Arnold in ihrer lokalen Kirche rockten und klassische Spirituals und Gospel mehrmals in der Woche spielten. Erste Auftritte unter dem Namen SweetKiss Momma kamen im Jahr 2008 und es folgte bald darauf die erste selbstbetitelte EP mit drei Songs. Nach vielen Live-Shows, die SKM im ganzen Nordwesten der USA spielten, hinterließen sie stets ein sehr beeindrucktes Publikum. Sweetkiss Momma haben im Mai 2010 dann endlich ihr lange geplantes Debütalbum "Revival Rock" veröffentlicht und schafften es damit auf Anhieb in die Top-Ten der "cdbaby"-Verkaufscharts ( cdbaby.com) im Genre Roots und Southern Rock. Im Jahr 2014 folgte mit "A Reckoning Is Coming" ein ganz phantastischer Nachfolger, aufgenommen in Nashville, produziert von Ken Coomer (Wilco, Uncle Tupelo) und gemastert vom Grammy-Gewinner Richard Dodd (Tom Petty, Johnny Cash).
Ein absolute Konzertempfehlung an alle Rockfans, die auf ehrlichen, handgemachten Rock'n'Roll stehen.
Wir freuen uns auf euch!
Video