Prima Donna (USA)
Do., 08.05.14 | 20.30h |
Happy Billard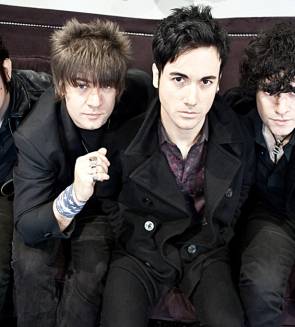 2014 kommt bereits zum 5.Mal eine Band nach Europa, die nur so strotzt vor Glam, Rock und RocknRoll und Sexappeal. Prima Donna aus Los Angeles!
Kaum eine andere Band weiss so zu überzeugen wie diese 4 Jungs aus Kalifornien. Ihre Liveperformance ist ein Wirbelsturm aus Farbe, Energie, Mut, Lautstärke und einer wahren Lawine aus eingängigen Refrains, die man sofort mitbrüllen möchte. Eine unglaublich überzeugende als auch mitreißende Liveband!

Eindeutig inspiriert sind sie vom frühen Punk der X-RAY SPECS, THE DAMNED und den SEX PISTOLS sowie dem 1970s Glitter von MOTT THE HOOPLE und BOWIE.
Prima Donnas Sound ist explosiv und wirft sich gnadenlos nach vorn, ohne jemals Melodien am Wegesrand verhungern zu lassen. Dicke Riffs, Texte, die Punktlandungen hinlegen, Licks, für die man sterben möchte...
www.primadonnarocks.com