Meena Cryle & Chris Fillmore Band [A]
Do., 20.09.18 | 20.30h |
Happy Billard * Kurt-A.-Körber-Chaussee 73 *21033 Hamburg Bergedorf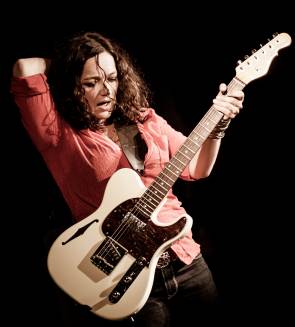 Die Club am Donnerstag Crew freut sich, Meena Cryle wieder im Programm zu haben !
Meena Cryle and Chris Fillmore bilden ein Gespann, das in dieser Intensität im gegenwärtigen Musikbusiness nicht allzu oft zu finden sein dürfte. Bei beiden merkt man, dass Musikalität, Gefühl, Seele und Genre keine Frage der Herkunft sind, sondern aus dem Ich wachsen, wenn dieses kompromisslos von der Leine gelassen wird. Kompromisslos ist auch ihr Songwriting, sie bedienen sich so einiger Genres, reihen sie aneinander, nehmen raus was ihnen gefällt und es entsteht etwas vollkommen Eigenständiges, das noch dazu von ihrem außergewöhnlichen musikalischem Talent beseelt wird.
Und weil man dem Blues nachsagt, er sei bodenständig, erdig und leidenschaftlich, findet man die drei Alben ("Try me", "Feel me", "Tell me") von Meena Cryle and The Chris Fillmore Band auch im Bluesregal, wobei in diesen beiden Musikern noch etwas anderes schlummert, etwas das tiefer ist als die Nacht finster. Das zeigen sie auch in der ungewöhnlichen Leidenschaft bei dem was sie auf der Bühne abliefern – beide sind Künstler die einfach ganz genau wissen was sie tun, weil sie vollkommen bei sich sind.
Meena Cryle (voc./acoustic guit.), Chris Fillmore (electric & acoustic guitars, banjo, slide guitar, piano), Joris Hendrik (bass) und Bernhard Egger (drums) sind vier hochtalentierte Künstler, die fernab von Genre-Denken und Klischees eine außerordentlich ehrliche, tiefgründige und mitreißende Musik hervorbringen. Southern Soul, Blues und Rock'n'Roll – so heißen die gängigen Stilrichtungen, mit denen diese Ausnahmeformation aus Österreich am häufigsten etikettiert wird. Nachdem sie in den letzten Jahren reichlich Tour- und Studioerfahrung in Europa und den USA gesammelt haben, vertrauen sie aber mehr denn je auf die eigene Muse. Ihr Album Tell Me belegt diese Entwicklung mit zwölf packenden Songs, die von innen kommen.
Eine mehr als 20-jährige, enge musikalische Beziehung verbindet die beiden Songwriter Meena Cryle und Chris Fillmore, die sich seit der Jugend kennen. Heute verstehen sie sich in jeder Weise blind. "Chris und ich sind wie Jagger und Richards oder Ike & Tina Turner", meint Sängerin Cryle sogar. Im Sommer 2009 nahmen sie in der Nähe von Memphis die Debütplatte Try Me auf; diese Zusammenarbeit mit der Produzentenlegende Jim Gaines (Santana, Stevie Ray Vaughan, John Lee Hooker) sowie mit hochkarätigen Gastmusikern war eine große Herausforderung, an der sie damals schon mächtig gewachsen sind. Mit dem überzeugenden Zweitwerk Feel Me von 2011 kam auch der Einstieg von Bassistin Marlene Lacherstorfer, die seit nun gut drei Jahren mit Frank Cortez eine erstklassige Rhythmusgruppe bildet.
Meena Cryle & The Chris Fillmore Band belegten bei der European Blues Challenge 2011 in Berlin den hervorragenden 2. Platz und begeisterten Jury und Publikum bei der International Blues Challenge in Memphis 2013. Außerdem war Meena für den Amadeus - Austrian Music Award 2013 nominiert.

http://www.meenacryle.com/