The Comancheros [USA]
Do., 14.03.24 | 20.00h | 15,- €
Happy Billard * Kurt-A.-Körber Chaussee 73 * 21033 Hamburg Bergedorf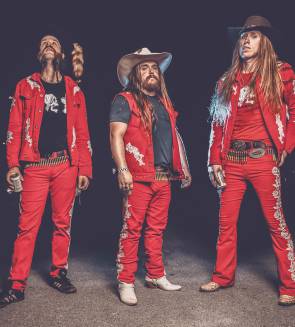 Richard Young von The Kentucky Headhunters sagt, die Comancheros seien "ZZ Top goes Star Wars".
Die Comancheros sind dafür bekannt, eine enorme Energi auf die Bühne zu bringen. Diese Energie fassten sie zusammen, um ihre erste Veröffentlichung in voller Länge zu produzieren: "Heavy & Western", gefolgt von "Too Old to Die Young Now".
Richard Young von den berüchtigten Kentucky Headhunters produzierte ihr "Memphis to Mexico". Seit 2015 spielen sie nun ununterbrochen und haben die Bühne mit Randy Rogers, The Cadillac Three, Drake White, The Steel Woods, Alabama, Whiskey Myers, Blackberry Smoke und der Nitty Gritty Dirt Band geteilt . Diese Erfahrungen haben ihre Sporen geschärft und die Band dazu inspiriert, einen Sound zu kreieren, der veranschaulicht, was es bedeutet, ein moderner Cowboy zu sein: Heavy und Western.
Nun sind The Comancheros entschlossen, in die Fußstapfen von Ikonen wie Motörhead und Thin Lizzy zu treten und ihr eigenes Live-Album zu veröffentlichen. So wird "No Quarter: Live at Duke's Indy" auf die Country-Welt losgelassen. Die Comancheros sind unvermeidlich.