Dead Bronco [E]
Do., 17.05.18 | 20.30h |
Happy Billard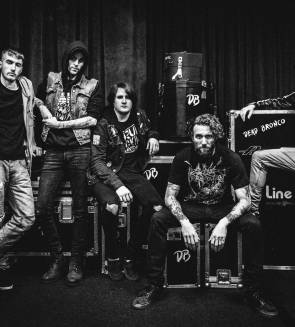 Dead Bronco bringen Country-Punk aus dem spanischen Baskenland in den Club. Angefangen 2012 an jeder Häuserecke, haben sie sich zu einem der gefragtesten Acts ihres Genres gemausert. Fast auf allen Festivals waren sie vertreten, und nach dem furiosen Auftritt auf dem "Muddy Roots" sind sie dieses Jahr gleich wieder gebucht. Mit neuer Platte sind sie unterwegs, "Bedridden and Hellbound". Und so ganz nebenbei fabrizieren sie ihr eigenes Bier…
Dead Bronco was formed in 2012 by frontman and Florida native Matt Horan. The band has gone from playing the street corners to being one of the most sought after bands in Europe. In 2012 they were awarded "Best Music Video" by CineMad… which lead to the bands recognition by the BBC as one of the most promising bands of 2013.

They have three albums and one ep (In Hell, Penitent Man, Moaning the blues, and Bedridden & Hellbound) which have received an enormous amount of support by critics and the general public. In 2015 they won the " Premios Rock Villa Madrid" award for best national band out of 400 participants, "Pop Eye 2015" award for best national rock band and have been selected by GPS out of 600 participating bands, to conduct an extensive national tour. The band has participated in Europe's main music festivals such as Sziget Music Festival Budapest 2015, Muddy Roots 2016, Mundaka Festival 2016, etc.

They don't just limit themselves to music but they are also immersed in other projects; Matt Horan plays the lead role in the thriller THE NIGHT WATCHMAN (filmed in the USA and Spain) and the band composed the movie sound track. The film was released in cinemas July 29, 2016 and is now available on NetFlix and DVD. But let's not stop there, the band has even commercialized their own beer label "La Bronca".

Dead Bronco is currently promoting their fourth album "Bedridden and Hellbound" , released February 2017, with an extensive U.S. and European Tour.

Don't miss out on their Broncobilly!
Vocals/Guitar: Matt Horan
Lead Guitar: Manu Heredia
Upright Bass: Oscar Calleja
Lap Steel: Dani Merino
Drums: Danel Marín
I
More info:
https://www.youtube.com/user/BRONCODEAD/videos