JAX HOLLOW [USA]
Do., 09.05.24 | 20.00h | 15,- €
Happy Billard * Kurt-A.-Körber CHaussee 73 * 21033 HH-Bergedorf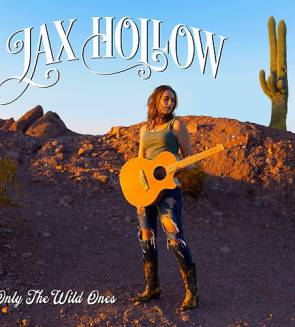 Jax Hollow
Rock Revival bekommt neuen Schwung - Jax Hollow ist wie Chris Stapleton, Pat Benatar und Melissa Etheridge!
Jax Hollow hat mit ihrem Debütalbum Underdog Anthems, das von dem legendären Produzenten Michael Wagener (Metallica, Ozzy Osbourne, Skid Row, Janet Jackson) produziert wurde, dessen Werke mehr als 100 Millionen Mal verkauft wurden, die Szene aufgemischt. Jax lebt in Nashville und ist eine der seltenen weiblichen Absolventen der renommierten Berklee School of Music, wo sie auch Songwriting bei Pat Pattison studierte, zu dessen Grammy-prämierten Schülern John Mayer und Gillian Welch gehören. Jax Live-Debüt fand als Headliner im ausverkauften Basement East statt, und ein paar Monate später trat sie als Headliner im weltberühmten Exit/In auf. Ihre Musik wurde von Nashville's 102.9 The Buzz gespielt, die ihren Song "Say my Name" als Local Buzzcut mit den Worten "2021 ist das Jahr von Jax Hollow" präsentierten und auf Nashville's Lightning 100, die Jax als lokale Künstlerin der Woche vorstellten. Das Album "Underdog Anthems" wurde 2022 auch in Europa veröffentlicht.
Am 28. Mai 2023 hat Jax ihr neues Album "Only The Wild Ones" im Nashville` Basement East Club released!
Und im Juli ist Jax auf persönliche Einladung von Melissa Etheridge als ihr support in der legendären Konzerthalle THE RYMAN aufgetreten und fast 2000 Leute begeistert.
LINEUP:
Jax Hollow - vocals, guitars
Micheal Lupo - drums
Patrick Sharrow
Die aus Nashville stammende Jax Hollow studierte am renommierten Berklee College Of Music. Mit Ihrer bärenstarken Stimme und große Virtuosität an der Gitarre steht sie für die nächste Generation von Hardrockern. Starke Texte und zuweilen melodische Kompositionen kommen hinzu. Auch ist sie nicht nur auf der ganz harten Welle unterwegs, sondern auch mit melodiösen Countrysongs und Blues. Sie ist eine echte Neuentdeckung.
Beginn 20:00 Einlass 19:00
TICKETS:
natürlich an der Abendkasse
Ticket Shop Bergedorfer Zeitung
Bei uns geht nur Bares! Keine Kartenzahlung möglich!
No Credit Cards! CASH only!