I See Hawks In L.A. (USA)
Do., 23.05.13 | 20.30h |
Happy Billard - Kurt-A.-Körber-Chaussee 73, Hof hinten 1. Stock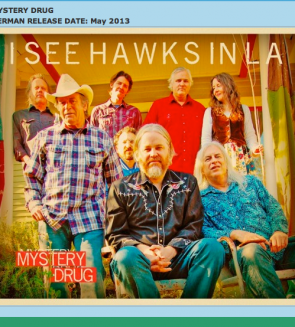 I See Hawks In L.A. - die Band mit dem seltsamen, aber sehr prägnanten Namen gehört zu den allerbesten der jüngeren Country Rock-Bewegung an der amerikanischen Westküste und hat nach Jahren des Wirkens nun endlich mit ihrer neuesten Produktion den längst überfälligen Weg auf das deutsche Blue Rose-Label gefunden.
Mystery Drug heißt ihre aktuelle, insgesamt bereits 7. CD: Live aufgenommen im Februar in nur 2 Tagen ist subtil, differenziert, entspannt, gut abgehangen, manchmal introvertiert, immer unendlich friedlich, dabei in den Lyrics eher nachdenklich und düster, alles überzogen mit dem Hauch des Besonderen. Früher hätte man sicher noch "kosmisch" hinzugefügt, und ganz früher "hippiesk".
Cosmic Cowboy Americana, Honky Tonk Psychedelia, Alt.Country Rock, Paisley Hillbilly... - die Beschreibungen variieren, gemeint ist immer dasselbe: die Adaption von zeitlosem Country Rock fürs neue Millenium auf Basis von Pionieren wie Gram Parsons, Flying Burrito Brothers, Buffalo Springfield, New Riders Of The Purple Sage, Dillard & Clark Expedition usw.
Besonders im Großraum Los Angeles hat sich dafür eine Szene etabliert, zu der u.v.a. Old 97s, Snakehandlers, Psychedelic Cowboys, Idaho Falls, Rick Shea, honeyhoney, Jonny Kaplan, Goin' South Band und Tony Gilkyson gehören; und I See Hawks In L.A., die in allen Belangen beste und interessanteste Band!1999 trafen sich die beiden Sänger, Autoren und Gitarristen Rob Waller und Paul Lacques bei einer Exkursion in die Mojave Wüste und begannen ihre Arbeit an ersten Songs.
Professionelle Hilfe erhielten sie vom bekannten Bassisten/Arrangeur David Jackson (Emmylou Harris, Peter Case, Dave Alvin) und Fiddler Brantley Kearns (David Bromberg, Dwight Yoakam). Ein erstes Ergebnis (I See Hawks In L.A.) kam 2001 unter großem Zuspruch heraus - wegen dieser eigenwilligen Synthese aus erfrischendem Country Rock und engagierten Lyrics, die ungewöhnlich ironisch, gesellschaftsbeobachtend und politisch sein können, eine originäre, moderne poetische Kraft ausstrahlen.
http://en.wikipedia.org/wiki/I_See_Hawks_In_L.A.
http://www.myspace.com/iseehawksinla