Patricia Vonne [USA]
- Sonntag !
So., 30.10.22 | 20.00h |
Happy Billard * Kurt-A.-Körber-Chaussee 73 *21033 HH-Bergedorf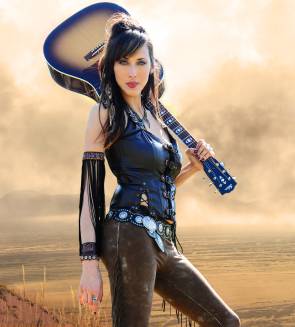 Wüstendurchtränkter Tex-Mex Roots Rock
Zuletzt war sie 2017 mit einem grandiosem Auftritt bei uns und wir freuen uns, dass wir sie wieder zu Gast haben.
Die Sängerin und Komponistin Patricia Vonne ist keine Unbekannte in Bergedorf. Ihre grandiosen Auftritte im Rahmen der Konzerte des Club am Donnerstag hat beim Bergedorfer Publikum einen bleibenden Eindruck hinterlassen und wir sind doch ein wenig stolz, dass sie auch im Oktober 2022 endlich wieder bei uns auf der Bühne steht.
Patricia Vonne Band
Wüstendurchtränkter Tex-Mex Roots Rock
Die schillernde Patricia Vonne aus der texanischen Musikhochburg Austin kreiert
einen verführerischen, wüstendurchtränkten Südstaaten Sound, gepaart mit den
Corridas und Rancheras aus ihrem mexikanischen Erbe. Staubtrockener Wüstenrock – gradlinig, dreckig, verführerisch und ohne jeden Firlefanz. Der Ritt mit Patricia Vonne und ihrer Band durch diese Tex-Mex-Prärie ist eine hitzige und vergnügliche Angelegenheit schrieb der Weser Kurier.
Die Sängerin, Komponistin, Schauspielerin und Schwester des Kult–Regisseurs Robert Rodriguez (u.a. From Dusk till Dawn, Desperado, Alita) ist zweifelsohne ein ebenso flamboyanter Charakter wie die Figuren, die die Filme ihres Bruders bevölkern. Sie setzt sich beeindruckend in Szene und kennt dabei keinerlei Hemmungen, sei es nun mit grandios inszenierten Rock n Roll Posen oder dem virtuosen Hantieren mit Castagnetten. Vonnes aktuellstes Werk "Top Of The Mountain" vereint alle die facettenreichen Elemente, die ihre musikalische Persona definieren. Rock, Folk, Flamenco, Tex Mex und ein Hauch Latin, die zusammengenommen ein reiches und farbenfrohes Bild abgeben, das einfach stimmig und einzigartig ist.
Vonne pendelt seit Jahren zwischen Musik und Film. So spielte sie nicht nur Nebenrollen in den Filmen ihres Bruders u.a. in Desperado, Spy Kids, Machete Kills oder als "Zorro Girl" in Sin City, sondern schrieb auch Filmmusik wie "Traeme paz" für Once Upon a Time in Mexico mit Johnny Depp und Salma Hayek oder "Mudpies & Gasoline" für Hellride von Quentin Tarantino.
Wir stellen die Band vor:
Patricia Vonne Vocals/Acoustic Guitar/Castanets
Robert La Roche Electric & Acoustic Guitar/Backing Vocals
Harmen de Bresser Bass / Backing Vocals
Bernhard Eichinger Drums
Empfohlene Video Links:
www.youtube.com/watch?v=rhX73jgI-8U
www.youtube.com/watch?v=dWU3L7RrHJE
www.youtube.com/watch?v=S-zFADAfBlo
www.patriciavonne.com
www.facebook.com/PatriciaVonneMusic
https://twitter.com/patriciavonne
www.youtube.com/user/patriciavonne
Artist Management Nico Baker
Also Nicht verpassen - am 30.10.22 ins Happy Billard
(übrigens der 31.Oktober ist ein Feiertag)
Veranstaltungsort:
Happy Billard , Kurt-A.-Körber-Chaussee 73, Hinterhof, 2.Gebäude 1.Stock 21033 Hamburg
Tickets:
Reservierung unter info @ clubamsonnerstag.com
oder Theaterkasse Bergedorf im CCB/ Ticketshop Bergedorfer Zeitung