Uncle Remus aufgelöst!
abgesagt !
Sat, 01.01.00 | 20.30h |
Happy Billard * Kurt A. Körber Chaussee 73 * 21033 HH-Bergedorf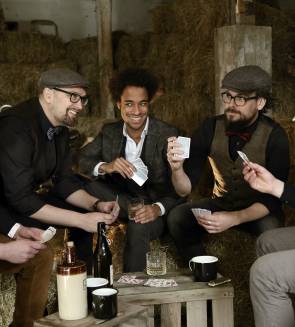 Hallo CaD Freunde... auch prämierte Bands lösen sich auf...
so auch UNCLE REMUS
Konzert abgesagt
Uncle Remus

A GREATMODERN ORIGINAL BLUES BAND
BASED ON THE BEST OF TRADITION
.SOULFOUL,SEXY AND HIGHLY ENERGETIC...
Eine absolute Perle unter den deutschen Blues-, Rock uns Soulbands ist eine neue Formation um den Sänger Jeffrey Amankwa! Die Spitzenmusiker Tom Pölzer (keys),Sven Hansen (dr),Herbert Frank (git), SImon Cohnitz 8bs) kompletieren das illustre Lineup....
Eine wunderbare Mischung aus Blues, Rock und Soul bringen Uncle Remus auf die Bühne, und das, obwohl die fünf Musiker nicht aus dem Mississippi Delta, sondern aus dem Rheinland kommen.

Sänger Jeffrey Amankwa, der als Straßenmusiker begann, war schon mit Bobby McFerrin und Xaver Fischer (ehemals Birth Control) und als Sänger der Kai Strauß Band auf Tour. Als Keyboarder und Pianist hat Tom Plötzer sich einen Namen gemacht, er spielte bei Musicalproduktionen wie Starlight Express und Bodyguard und ist festes Bandmitglied bei Bröselmaschine und der Peter Bursch All Star Band. Frank Herbort, dessen Wurzeln in der Rock- und Popmusik der 70er und 80er liegen, ist derzeit fester Sideman bei Joel Brandenstein. Schlagzeuger Sven Hansen ist Mitglied der Joseph Parsons Band, Livedrummer bei Eko Fresh und den Goodfellas. Sein Repertoire reicht von Rock über Hip Hop bis Jazz. Gemeinsam mit dem fantastisch spielenden und singenden Bassisten Simon Cohnitz legen die beiden als Rythmussektion das Fundament.